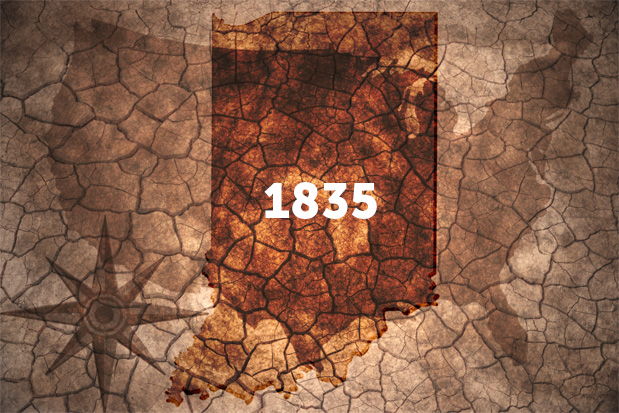 FOUNDED THANKSGIVING DAY 1835
Founded on Thanksgiving Day in 1835 to help new arrivals to the Indianapolis area with material needs such as food, clothing and shelter, Families First has evolved and changed with the community to best meet the needs of central Indiana families. Today, as central Indiana's oldest non-profit human services organization, we remain dedicated to preserving and strengthening families through professional, affordable counseling and services.
1835
Formed on Thanksgiving Day, Families First was originally known as the Indianapolis Benevolent Society mission was "to search out (Indianapolis's) destitute families and afford them prompt relief." Indiana Democrat, November 30, 1836, p. 4 philanthropy was almost entirely in the form of charity, defined as "food and shelter, dedicated to caring for the destitute and needy."
1844
Indianapolis Benevolent Society added to its mission, beginning to help people find employment … "to assist such as may desire it inprocuring employment" in response to a November 30, 1844 Indiana Democrat editorial that stated "(t)he desire to live on other men's earnings, is the vein from which almost all individual sufferings spring."
1840s
Indianapolis Benevolent Society redefines the "poor" – those "wholly capable of work" as deserving and the "unworthy who were able-bodied and lazy" as paupers.
1849
Widows' and Orphans Friends Society was established to help the town's poorer women.
1849
Widows' and Orphans' Asylum was established to provide relief grants for widows and boarding-home care for orphaned children.
1855
Widows' and Orphans Friends Society formed a joint committee with the Indianapolis Benevolent Society to raise funds to build a new facility to house the ten children the Society cared for. It was built the same year.
1860s
During the Civil War, Indianapolis Benevolent Society devoted itself to caring for the wives, mothers and children of the soldiers who were left behind. The organization built the Home for Friendless Women "for the aid and improvement of abandoned women."
1867
After the Civil War, city council appropriated $1,000 for an addition to the Widows' and Orphans Friends Society children's home, which increased its capacity to 75 children.
1875
Widows' and Orphans' Asylum took over the old Butler University site; Indiana General Assembly changed the institution's name to the Indianapolis Orphan Asylum.
1879
Indianapolis Benevolent Society president established "a citizens' association of business men and charitable societies for the purpose of the united effort in dealing with the problems of poor relief," the Charity Organization Society.
1880
Indianapolis Benevolent Society turned its administrative and investigative functions over to the Charity Organization Society, which formed:
Society of Friendly Visitors whose members regularly visited families
Dime Savings and Loan organized in 1887 to encourage thrift among the poor.
Summer Mission for Sick Children was started in 1889 to send sickly infants and new mothers to summer hospitals on the outskirts of the city.
Fairview Settlement was started in 1907 to provide housing for widows and children.
Social Service Exchange allowed all Indianapolis charities to share their case records. In 1941 became part of the Council of Social Agencies.
Legal Aid Bureau was started in 1912 to provide free legal assistance to the poor. Later became the independent Legal Aid Society.
1880-1923
Indianapolis Benevolent Society and Charity Organization Society maintained separate identities but functioned as two arms of the same organization with the same executive director and board of directors.
Charity Organization Society investigates cases to identify those worthy of aid, and refers deserving cases to the appropriate charity
Indianapolis Benevolent Society provided assistance to those people approved by the Charity Organization Society
1905
Charity Organization Society forms the Children's Aid Association to provide child rearing advice, locate temporary homes for children with parents unable to support them, and distribute milk and medical care to needy children
1907
Mother's Aid Society is established to provide free homes for widows with children
1922
Charity Organization Society, Indianapolis Benevolent Society, Children's Aid Association and Mother's Aid Society merge into a new organization—the Family Welfare Society, which aims to address problems of the family.
1934
Children's Bureau is transferred to the Indianapolis Orphans' Asylum. The Family Welfare Society ceases to be a relief agency, and increasingly emphasizes its counseling services
1941
Charity Organization Society becomes part of the Indianapolis Council of Social Agencies
1945
The Family Welfare Society changes its name to Family Service Association of Indianapolis
1965
Hancock County branch of the Family Service Association of Indianapolis opens.
1980
Boone County branch opens.
1981
Hamilton County branch office opens.
1983
Morgan County branch office opens.
1993
Family Service Association of Indianapolis changes its name to Family Service Association of Central Indiana.
2003
Family Service Association of Central Indiana becomes Family Service of Central Indiana.
2011
Family Service of Central Indiana becomes Families First.