Friends of the Family Member Testimonial
Here's how it worked for Families First fans,
Tom and Karen: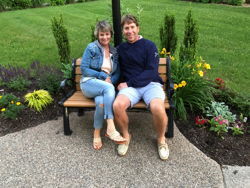 "Like a lot of people who do estate planning, Karen and I considered the financial legacy we wanted to leave for our family, but we also wanted to think through how we could support our church and other organizations like Families First that are both important to us and to the community.
When it came time to consider which charitable organizations to include in our estate plan, there was no doubt that Families First would be on the list.
We consulted with an estate planning attorney on the best way to do it.
The tax/legal advice we got made a lot of sense to us and was very easy to implement. Through planning, we were able to list our church, Families First, and other charitable organizations as contingent beneficiaries. Since charitable organizations don't pay income taxes and since we don't anticipate needing to tap our IRAs for at least another 10 years, we think this approach makes a lot of sense for our estate plan at this time."
A legacy gift can be a very practical addition to your financial or estate plan. You can become a member of Families First's Friends of the Family through an investment from your estate or financial plan.