April 9, 2018
Immediate release
Contact: Kirat Sandhu, ICESA, 317.625.4957
Chelsea Beauchamp, Families First 317.634.6341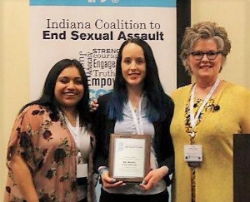 Indiana Coalition to End Sexual Assault announces winners of inaugural Outstanding Service Awards

ICESA has honored five outstanding individuals/teams for their exemplary commitment in the fight to end sexual assault. They are leaders (with or without formal titles) in their disciplines when it comes to providing compassionate, evidence-based, trauma-informed service to victims and survivors of sexual assault. After receiving dozens of nominations from across the Hoosier state, ICESA is honored to announce the inaugural winners of the ICESA Statewide Sexual Assault Conference Outstanding Service Awards! Please join us in congratulating the following individuals for their outstanding service in support of victims and survivors of sexual violence:
Michael Haskett
Sex Crimes Detective, Noblesville Police Department
Category: Law Enforcement
Nadia Wardrip
Deputy Prosecutor, Lake County
Category: Prosecutor
Cathy Clark
Center of Hope Coordinator, Franciscan Health Lafayette East
Category: Sexual Assault Nurse Examiner
Aly Austin
Sexual Assault Survivor Advocate, Families First
Category: Victim Advocate
IndyStar Investigations Team
Marisa Kwiatkowski, Mark Alesia, Tim Evans, Robert Scheer & Steve Berta
Category: Media/Journalism
The awards were presented during ICESA's 2018 Statewide Sexual Assault Prevention & Response Conference, taking place at the Renaissance Indianapolis North Hotel in Carmel.
Tag @INDIANACESA #SAAM #ICESA2018 in your posts!